For shopping mall operators around the world, the billion-dollar question: is how to make frontline staff show wholehearted commitment to providing "customer-centric" services, as if it was second nature.

Developer Hang Lung Properties has the answer, though. They believe the essential thing is that staff identify with and embrace the company's vision, mission and values. Once that happens, the customer-centric mentality naturally follows on.

To prove the point, the company has organised the "Hang Lung Emerald Award" since 2014 to recognise excellence in services offered by frontline staff at its malls in Hong Kong and mainland China. This is just one part of an ongoing drive to further enhance service standards and staff commitment. In particular, the Award reflects Hang Lung's efforts to encourage individuals to go the extra mile in providing a level of service which exceeds customer expectations. But it also exemplifies the company's "care about people" corporate culture with an emphasis on career development and personal growth, according to Janet Poon, Deputy Director (Head of Group Human Resources and Administration) of Hang Lung Properties.

The recent sixth edition of the Award attracted a record-breaking 644 nominations submitted between March 2019 and September 2020 across Hong Kong and Mainland projects. The panel of judges then considered various criteria, including each nominee's problem-solving skills, accountability and initiative to assess if they had made an extra effort in delivering customer- centric services. In the end, two Emerald Award winners and six merit award recipients were selected, "It is encouraging to see both the increase in cases, as well as the quality upgrade every year," Poon says. "That indicates the higher standards being achieved."

The commitment to service excellence among Hang Lung's frontline staff has been even more remarkable over the past year. They had to overcome the multiple challenges associated with Covid-19 to ensure a safe environment for shoppers and tenants, which was a major test for everyone.

The Emerald Award has also become an important platform for learning. The winners are invited to share their experience and knowledge of how best to put customer-centric thinking into practice. "Experience sharing is vital," Poon says. "We use it to reinforce corporate culture and take service standards to the next level, a concept conveyed in our new English motto 'We Do It Well'."

Hang Lung celebrated its 60th anniversary last year. To mark this important milestone, the company introduced its updated vision, mission and values (VMV), communicating a more clearly defined message to all stakeholders, including employees, customers, tenants, investors and the community at large.

"Together with other complementary platforms and the new VMV, the Emerald Award is an integral part of our plans to inspire staff to deliver excellent services and exceed customer expectations," Poon says. She notes too that the company recently unveiled a new uniform for its frontline team to communicate by visual means the right image of professionalism and service quality.

A series of transformative training and career development programmes are also designed to promote actions and outlooks which exemplify the VMV and the motto including the "Emerald Service Knowledge Programme" which focuses on teaching the behaviour and attitudes that staff should adopt when interacting with customers.

The more advanced "Emerald Service Action Programme" includes many different scenarios taken from real life. By immersing themselves in role-plays, employees learn how to put the standard techniques into practice and how to deal with unexpected situations.

Beyond that, the "Emerald Service Coaching Programme" hones the coaching skills of supervisors. It also upgrades and updates their knowledge of relevant government regulations in the areas such as fire safety and security.

These training programmes, along with "INSIGHT" webinars where outstanding employees share best practices and discuss specific cases, raising the performance standards of their staff. For instance, excellent teamwork and shared goals meant the service delivery team at Amoy Plaza could assist the police in tracking down a robber who made off with an expensive gold chain from a jewellery shop in the mall. They successfully recovered the stolen item, and several members of the team subsequently received a police commendation.

Chan Mun-kan, Senior Guest Service Supervisor at Amoy Plaza, says his team always tries to anticipate customer needs and to provide appropriate services. "We walk the talk, whether it is a question of showing integrity, helping the police, or protecting our tenants in other ways," Chan says.

Senior Guest Service Associate Niu Lu Xu, who works at Palace 66 in Shenyang, took the initiative by suggesting a search through the mall's membership database to locate the owner of a lost train ticket and return it after office hours. This example too was in keeping with Hang Lung's VMV, with the team taking every matter seriously and doing their best to resolve any problem. "Our work attitude reflects the integrity of the company," Niu says.

Elsewhere, Joyce Leung, Concierge at the Peak Galleria in Hong Kong, successfully calmed down an emotional shopper who was holding a cleaner captive in the washroom. With support from other departments, Leung defused the potentially dangerous situation and minimised any impact on other shoppers and the mall. "This demonstrates the Peak Galleria team's commitment to excellence," she says.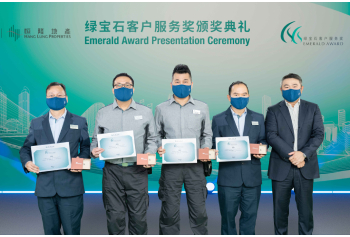 1. Weber Lo, CEO, Hang Lung Properties (1st right) and the winning team from Amoy Plaza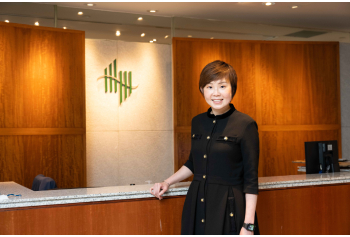 2. Janet Poon, Deputy Director(Head of Group Human Resources and Administration) of Hang Lung Properties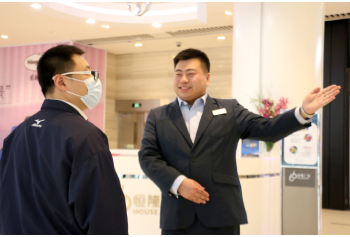 3. Niu Lu Xu, Senior Guest Service Associate at Palace 66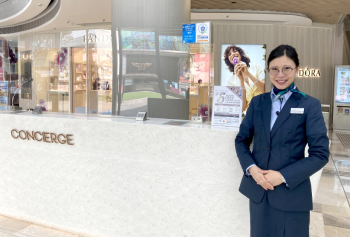 4. Joyce Leung, Concierge at the Peak Galleria