The global supply chain and logistics industry has been very much in spotlight in the last 2 years, in part because various international events disrupted the usual smooth flow of goods between cities and continents.
Deliveries of items ranging from vaccines to car parts, electronic components and plastic cups were held up due to lack of capacity, port and airport congestions and shortages in equipment or trucks. While the situation is gradually improving, the tides are changing rapidly seeing decreasing volumes and rates due to the worsening global economic outlook. But, as it turned out, those incidents made the general public more aware of the scale and complexity of the industry, illustrating the indispensable role it plays in linking suppliers andconsumers.
As a result, graduates and professionals looking for a new challenge have begun to take new interest in the sector and the many exciting career opportunities it can offer.
For Roman Mueller, deputy director of Air & Sea Logistics Asia Pacific for Dachser, that is great news. Ultimately, regardless of how the world changes or the disruptions that occur, he believes logistics will always be a peoples business. And that means it is essential to keep hiring young talent keen to learn about the industry and be trained for specialist positions.
"Anyone can identify with this business," Mueller says. "In a supply chain we have so many touch points from shippers to truckers, terminals, shipping lines, air carriers and more. What we do is relatively simple, however it requires a lot of collaboration between different stakeholders in order to make a supply chain smooth and effective.
Creating the frontline team and support system to keep everything running smooth means having a good mix of talent. Typically, recruits come from diverse backgrounds and are given the chance to put forward new perspectives and ideas, that translate into a general sense of "co-creation".
"Whether we're dealing with consumer goods, electronic parts or e-commerce products, essentially logistics is the extended arm of a company that it helps to deliver goods to where it is needed and thus can be a real value-add, helping industries to be successful. To that end, we are also one of the first to notice changes in demand and supply, and thus it let you feel the economic pulse," Mueller says. "So, for any young person who wants to be a part of this, it's never going to be boring."
Dachser, as a 92-year-old family-owned business which is headquartered in Germany, has more than 30,000 employees spread across its global network. The firm has long aimed to be an employer of choice and gives employees every chance to build a career and keep acquiring new skills.
The corporate culture sees people as the major asset and believes its resilience is the result from a strong sense of togetherness. Many view this approach as the foundation of the company's success and the reason it has been able to weather the challenges of recent times.
Other core values such as entrepreneurship and the courage to innovate, loyalty and commitment as well as inclusive responsibility, have also shaped the organisation over the years.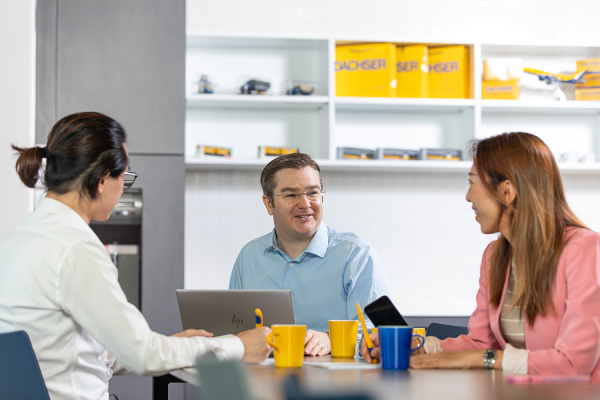 "Entrepreneurship and courage to innovate" and "inclusive responsibility" are some of the most important values of Dachser.
"We want people who are committed and ready to contribute and help shaping our company of tomorrow," Mueller says.
Also, with the broader industry undergoing digitisation and other process improvements, it is a great opportunity for new joiners to be part of this change.
Mueller also emphasises the need for people who are committed team players, strong communicators and forward thinkers who are not afraid to stick their neck out and bring in fresh ideas. This helps us to accelerate innovation and ultimately will create "in-house ambassadors" who are "carrying" our corporate culture ahead and understand that logistics, for all the technology involved, is still at heart a peoples business.
"As a company, we show recruits a clear, well-structured career path," he says. "We also offer high-quality job specific training, two different tracks of management trainee programs as well as talent development programmes which are designed to create the company's future leaders."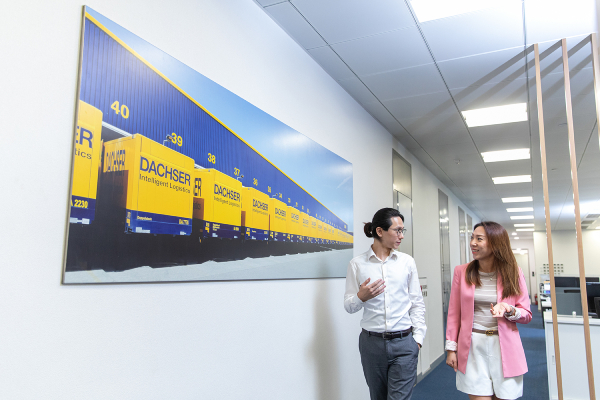 Each management trainee will be coached and supported by a mentor.
Indeed, the widely-admired Dachser Academy is renowned for its well-thought-out skill based and progressive programs that are offered both on-and offline, supporting career progression.
"As we continue to expand our global network, we are always looking for individuals who want to change the status quo, innovate, and be part of shaping the company's journey heading towards its goals," Mueller says. "These are the guys that should join us because they can make a real contribution."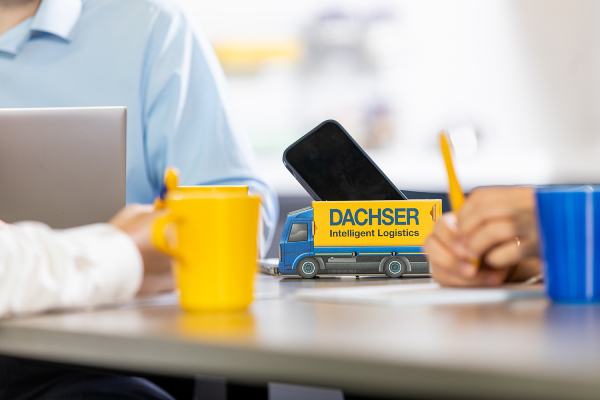 The German-based logistics company has over 90 years of history.