Fatima Said disproves the notion that you need big backers and slick offices to start a successful business. At the age of 16, Fatima built a company with her two brothers from the basement of her parents' house in Austria. It became the fifth-largest ecommerce services provider in the US in just four years. This was just the start of her entrepreneurship journey. Fatima was prepared for the many challenges early on and has successfully navigated countless technology industry changes.
"My journey has had many highlights - from helping world-class brands such as Nike, Canon, and L'Oréal accelerate their ecommerce success to launching original IP products like LUFT and Quik.ai," explains Fatima Said, Co-Founder and Managing Director, eWave. "But I'm an entrepreneur at heart, and I apply the same values to all of my companies - passion, tenacity, and innovation."

Fatima strongly believes the most considerable risk is not taking a risk at all. She encourages anyone embarking on their business journey to remember their passion and visualise the future through a positive mindset. Regardless of volatility and instability in the market, growth doesn't come from sticking with the status quo, and Fatima sees that not taking risks can result in becoming less competitive and relevant in the long-run.

eWave moved into its first office space in Sydney, Australia, with a three-year lease. At that time, the business only had enough cash flow for a month's rent. Today, eWave has more than 300 employees in 19 cities across the world "Don't be intimidated by failure. If you've never failed or experienced rejection, you've never allowed yourself to truly succeed", Fatima shares. "Success is the result of growth and change from those failures. Success is also something that comes from persistence though. You soon realise that taking your foot off the gas at every detour does little to get you to your destination. Don't be discouraged the road ahead, however daunting it looks. Stay focused on where you're heading."

A key lesson for Fatima during the pandemic was to embrace fear and uncertainty. There will always be unpredictable events, so it's essential to keep the mindset of driving consistent change - for employees, the business, and clients. Turning roadblocks into opportunities is one of the key traits of resilient leaders. Growth always accompanies positive transformation.

Fatima shared a recent transformation experience advising Accent Group, which holds iconic brands such as Skechers, Vans, Dr. Martens and more, on a pivotal business transformation process. The experienced team at eWave partnered with Accent Group to build a seamless omnichannel commerce experience. The implementation of 'click and collect' saw group sales of over $1.6M in the first seven months, among many additional rapid and tangible results.

Another example is the strategic partnerships with Searchspring and Bloomreach, in which Fatima strives to further enable clients to deliver memorable, best-in-class shopping experiences and help them exceed customer expectations. Fatima says, "We've seen a period of rapid technology adoption, and now companies are realising the future-focused value of bringing digital and physical presences together in innovative ways. To stay ahead of the competition, you need to be constantly curious – not just about what's next, but what's beyond the horizon. You also need to be ready to pivot quickly. Only then can you have a chance of staying ahead of the competition."

Aside from Fatima's emphasis on passion, tenacity, and innovation, she also considers change leadership to be an essential ingredient to entrepreneurship. "As a technology entrepreneur, you might say that my biggest role during recent times is that of a change leader," says Fatima. The pandemic has reminded her that teamwork and supporting her colleagues through change is also a core motivation. "The only constant in life is change, and having the right perspective can ensure that manifests as positive change," she adds. Remaining true to herself and focusing on what is important is how Fatima keeps things moving forward, as she has done throughout her multi-decade entrepreneurship journey.

About Fatima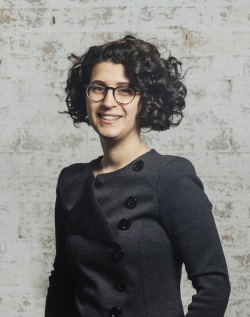 An entrepreneur by nature, Fatima launched her first business at the age of 16, building eCommerce Inc. from the ground up to become the fifth largest provider of eCommerce services in the US within four years of operation.

Alongside completing her Masters in Information Technology, Fatima has acquired 18 years of business and technology experience, launching hugely successful startups across Europe, USA and the APAC region. Today, Fatima leads a group of companies built around digital commerce, with businesses across solution delivery, product development, cloud infrastructure and artificial intelligence sectors.

As Co-Founder and Managing Director of eWave, a global services platform helping organisations create world-class digital commerce experiences. Fatima has overseen the company's growth from its foundations to become a cross-continental commerce powerhouse. In the process, she has earned a globally-respected reputation for driving revenue, guiding digital business transformation, and enabling growth across markets at speed for the world's leading brands.