Commentary on Financial Services Operations Roles and Remuneration in Hong Kong for 2018
Hong Kong Operations Recruitment 2019 Salary Guide
The operations recruitment market remained steady and well-balanced in Hong Kong in 2018. While there was some candidate flow, demand and supply remained relatively flat with no significant spikes in recruitment or operational headcount.

While there may be increased headcounts for companies new to the Hong Kong market in 2019, we don't expect any vast changes in the coming 12 months. In recent years, banks have outsourced several functions to offshore locations including South East Asia and Eastern Europe, however, the majority of banks have completed this process and we do not expect to see many firms undertake an outsourcing of their operations in 2019.
In-demand Roles, Skills and qualifications for Operations Professionals
Roles frequently filled and requested in the market were middle-office trade support functions and KYC functions. Middle-office functions continue to be in demand to support traders and sales personnel and, as these front-office functions cannot be easily offshored to lower cost locales, we expect to see continued and steady demand for middle-office support, particularly in comparison to back-office operations.

The North Asia economy remains strong and with increased client onboarding, business transactions and account opening, KYC teams continue to expand their headcounts. Hiring managers are increasingly seeking out individuals in KYC and middle-office functions with in-depth product knowledge, and while Fixed Income Currency Commodities (FICC) were more in demand this year and set to remain steady in 2019, equities took a back seat due to some apprehension in the market driven by uncertainty regarding US-China trade relations.

Back and mid-office professionals interact daily with front-office colleagues and strong interpersonal and communications skills remain high on the list of desirables for candidates. As more companies improve and streamline their processes, we see increased demand for operational talent with project management skill sets and those with the ability to oversee change of systems and process improvements projects within the business. The ability to think commercially and quickly get to grips with various aspects of the business also sets candidates in good stead, alongside strong stakeholder management skills and the ability to articulate depth and detail in a concise manner in fast-paced working environments.
Workplace Trends Impacting Operations Professionals in Hong Kong
While European AND AMERICAN banks are most advanced with their offshoring, the majority of global banks are considering moving roles offshore and it is likely local firms may follow suit. While operations staff may feel in a precarious position, offshoring can offer employees the chance to get into better roles. For example, back-office staff that possess transferable skill sets may be offered roles in due diligence and KYC teams, as well as internal audit and risk. Despite the offshoring trend, Hong Kong remains a world-leading financial hub and as this market grows, we expect to see KYC, account opening positions and middle-office functions remain open to candidates.

In terms of work-life balance for middle office functions and KYC positions, organisations have difficulty facilitating more flexible or work-from-home arrangements due to the nature of the work. In the future, technological advances could result in some time timesaving on tasks and processes and improved work-life balance for those working in operations.

Salary wise, we do not expect to see huge increments in salary in 2019, and compensation will remain steady overall.
What Does the Future Hold for Operations Professionals? Predictions for 2019 and Beyond
The attraction of candidates into operations functions will remain challenging, while middle-office roles continue to be a more appealing avenue for candidates. Advice for organisations and hiring managers is to promote internal operations talent from within into middle-office functions so these employees see growth. At the same time, hiring managers are advised to be more flexible in their requirements on product knowledge, as this can be cross-trained.
All Figures shown are in HK$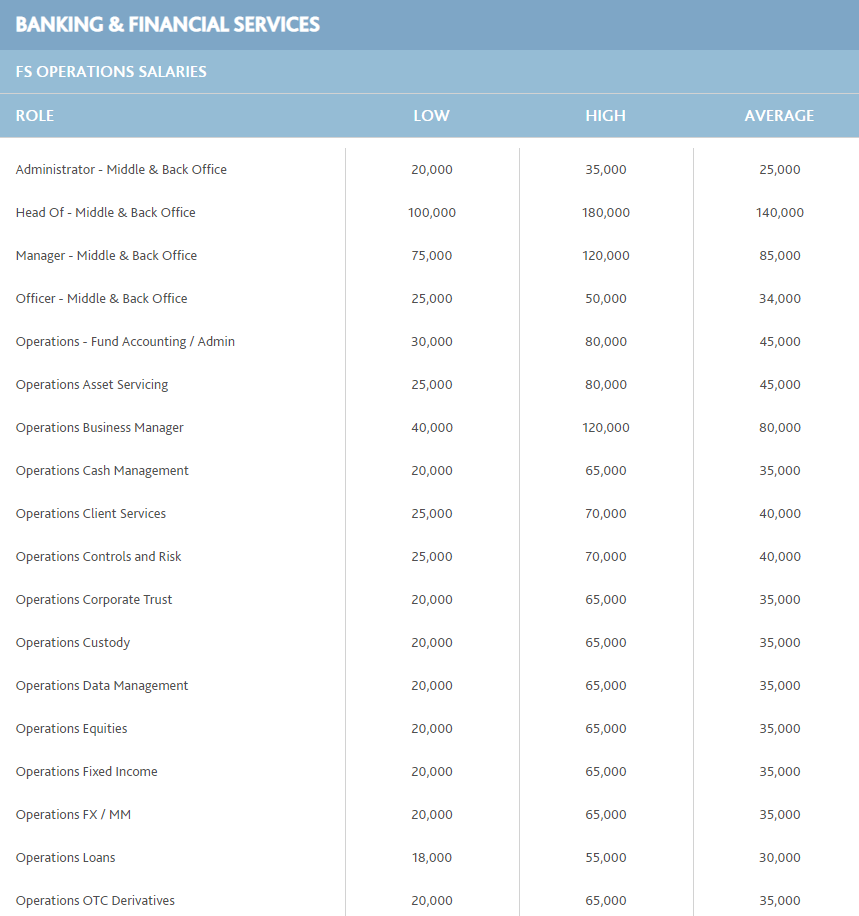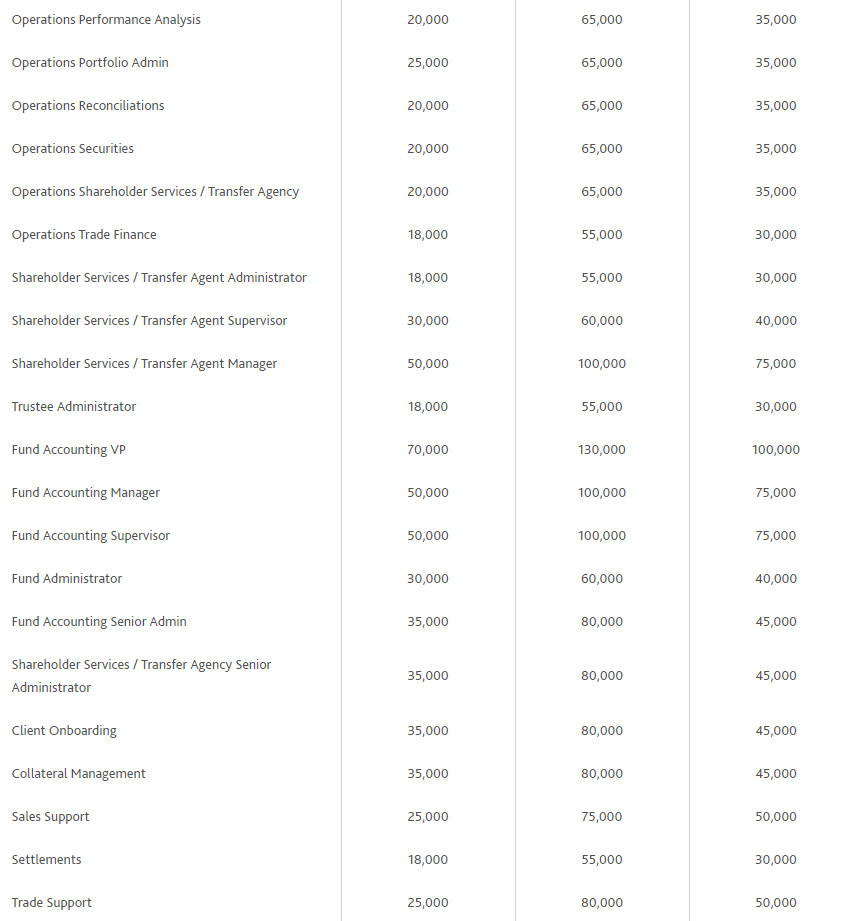 Source: Morgan McKinley Salary Guide 2019