Managing Exam Stress
Published on Wednesday, 04 May 2022
Do you have words of affirmations on your ceiling that are the first thing you see when you wake up? "You're amazing, you're going to ace this exam!" Maybe you have a stress-relieving app that brings you peace when you need it. As you prepare for your CIMA exams, we encourage you to plan your strategies and tap into all positive coping techniques.
1) It's all possible with a plan.
Understand the format of your exam — Objective Test and Case Study exams.
Familiarise yourself with the exams. Once you have booked your exam, take a look at our free exam and question tutorials. These resources will help you to understand the exam software and the types of questions included in both the Objective Test and Case Study Exams.
Plan your study strategy.
Do you study better with other people around you studying, or do you need to be alone in a room with no distractions? Maybe a little bit of both is the secret to your study success. Determine your study style and then plan your strategy.
Block out dedicated study time. Use your Google, iCal, Outlook, Android calendar on your tablet, phone, smartwatch, or computer to plan your study time! Whether it's 30 minutes on your lunch break, that hour after you put your child to bed or every Saturday at noon, let whatever works for you work for you. Put enough consistency in your schedule that you study for a certain amount of time each week.

Study by level, not by subject. The CIMA exam is taken at three levels — strategic, management and operational, with three subject areas for each level. Although the subject areas align with three pillars across the levels, plan your studies by level. Exam blueprints are available online for each level. You can study one subject at a time or all three, whatever works for you. You can also take the exams in any order; however, we recommend following the E, P, F in order per each level as outlined below.
Study across the levels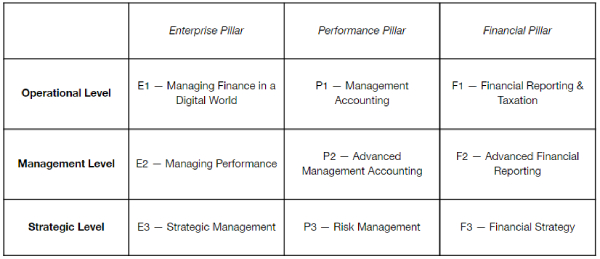 Prepare with study resources and practice tests. There are a variety of tools to help you achieve success. CIMA Planner lets you set a personalised study plan and track your progress as you go. CIMA Study is an online learning resource the CIMA faculty reviewed, approved and delivered in partnership with Kaplan. CIMA Aptitude offers mock exams in practice mode or with timed assessment. For each of the three Case Study exams, there is a Walkthrough Answer guide, which compares a passing exam answer with an unsuccessful one and is annotated with examiner feedback — it's a must-read before sitting your Case Study exams. Take a look at the one for the Operational Case Study to get an idea of what the guides look like.
2) Prioritise positive coping techniques as a life skill.
Did you know there are proven health benefits to hugs and that they are great stress-relievers? Well, now you do. Positive coping techniques help mitigate life-stressors and are beneficial for helping exam nerves. After you have planned your study strategy, here are some stress-relievers to consider:
Plan time for rest and relaxation. Maybe a massage, a trip to a scenic area that brings you peace, or some time away from a crowded home environment is what you need. Maybe it's five minutes a day meditating or sitting in silence to calm your mind. Find your relaxation sweet spot and plan that time the way you plan your study strategy.

Talk to a trusted friend, colleague or your manager. Resist any urges to keep your feelings bottled up or to deal with your stress in isolation. Seeking support to help navigate fears and anxiety is often invaluable. Tap into your network of supportive friends who provide a non-judgmental listening ear. You can also consider professional counselling to help you develop better ways of coping with stress and anxiety.

Find a physical stress-reliever. Physical activity releases endorphins that relieve pain and create a general feeling of well-being. It doesn't matter what you choose to do — dance, run, kickbox or running — getting into something physical is good for your body and has a calming effect on the mind.

Pour positivity into yourself. You've got this. You are a smart person that is well-equipped to pass your CIMA exams. Whether you have visual words of affirmation or you speak them to yourself, believing you can do this is a step in the right direction.
By Mark Foley, Director of Relationship Programmes – Management Accounting at the Association of International Certified Professional Accountants, representing AICPA & CIMA
Become our fans