Social enterprise Cookie Smiles is raising funds for charities with its sweet treats, says Helen Dalley.
Poised to celebrate its first birthday this June, social enterprise Cookie Smiles raises money for Hong Kong-based charities through the sale of its ever-extending range of cookies and dog treats, Woof Twisters. Founded by Ngo advisor Jo-Soo Tang and baker Agnes Chin to bring some joy during the darkest days of the pandemic, its bags of cookies are now stocked in cafes, restaurants & clubs across the city, including the Coffee Academics, Hong Kong Football Club and Spicebox Organics.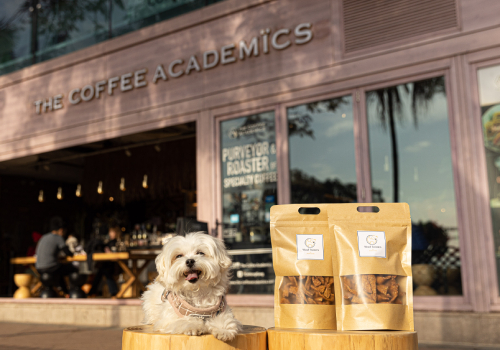 Tang and Chin also work with corporate partners and educational institutions on fundraising campaigns to support its three partner charities. It gives away 20 per cent of its annual profits made from its regular cookies to the Hong Kong Down Syndrome Association (HKDSA) and the Splash Foundation, which runs free swimming programmes for domestic workers, refugees and low income families. A further 15 per cent of annual profits are donated to the SPCA from sales of its Woof Twisters.
Cookie Smiles additionally supports the local community by creating jobs. Its two main bakers were trained up in Cookie Smiles' kitchens, which are located in Wong Chuk Hang, after a second round of redundancy. It has recently taken on a new member of staff from the Shine Skills Centre, which offers vocational training. "Our newest member of staff, Ah Tong, is working for us three days a week in between training for the Paralympics. He made all of the gingerbread for us over Christmas, and we're really enjoying his work." They hope to take on more graduates in the future, adds Tang.
With special cookies launched year-round to commemorate events including Chinese New Year and Easter, it recently launched a Mother's Day bundle with florists Wonderland Fleurs. Over Chinese New Year, Cookie Smiles packaged its cookies into tins so people could gift them to friends and family. Cookies containing dried fruits like cranberry and apricot are next on the agenda. Its most popular cookies are butter snaps, chocolate snaps and confetti chocolate and it will be launching a new shortbread cookie to celebrate its first year anniversary, she says.
Following the success of its sweet cookie range, it has not only added new sweet flavours but also launched a savoury line, Munchie Smiles, following its seasonal debut at Chinese New Year. "We made some prawn crackers and sprinkled a bit of gold into them for Chinese New Year, and they went down really well," she says.
Its dog snacks Woof Twisters, meanwhile, are selling incredibly well, adds Tang. "It's the signature product at the Coffee Academics across six different locations and they're are also selling well at vets and pet shops across the city including Whiskers N Paws and the Valley Veterinary Centre."
In June, it will launch a range of snacks and a fundraising event with the Ladies Recreation Club. "Events like these help us to keep the brand fresh and enable our cookies to become part of a fundraising event and reach more businesses," says Tang.
The startup has ambitions for its cookies to be a pantry item at firms, or a corporate gift. This is something that's already happening, as its gingerbread men were an item in law firm Baker McKenzie's Christmas goody bag. Another law firm, Herbert Smith Freehills, purchased its cookies for Christmas for a staff giveaway. "Corporate gifting is massive, but it's still quite traditional and we hope to change that," says Tang.
Asked to share her advice with those keen to set up a social enterprise, Tang says don't be overly aggressive with business plans and be prepared to accept that things often can change quickly month by month. She encourages start-ups to reach out for free advice, too. "Find out if corporates can give you their time. Law firm Herbert Smith Freehills, for example, takes on pro bono work and have advised us," she says.
Over the next 12 months, Tang hopes to further utilise cookies as a fundraising item and for schools & companies to recognise it as an initiative they can regularly roll out. It would like to work with more schools and recreation clubs in the future, Tang elaborates.
The Cookie Smiles social enterprise model may even be exported overseas, and Tang's business partner, Chin, wants to export the idea to Kuching (she's originally from Borneo) and hopes to set up a training school in the city long-term. "Setting up somewhere else in Southeast Asia, perhaps Singapore, would be ideal and it would be great to find a partner in China and establish ourselves in Shanghai too. We're keen to speak to people in China and get linked up to a good kitchen and bakers."
With sweet treats that benefit the local community, Cookie Smiles has hit upon a winning formula with a business model that looks set to be replicated across the region. cookiesmiles.com.hk