Commentary on Finance and Accounting Roles and Remuneration in Hong Kong for 2019
2018 was generally steady for the finance and accounting sector. While the number of jobseekers remained constant, the amount of positions available decreased by around 10 percentyear on year. A couple of notable trends from the past 12 months include a rising demand foraccounting and finance talent from non-governmental organisations and statutory authorities,and significant shifts in demand at various levels of seniority. Despite 2018 being a robust yearfor the economy, organisations are expected to remain conservative in their projections andhiring decisions for 2019.
The year was particularly challenging for senior-level professionals.With some international multi-national corporations moving their headquarters away from Hong Kong, the number of senior roles availabledecreased in number, particularly for those seeking a monthly base salary of HK $80K andupwards. With more candidates than positions available, hiring managers had the pick of thebunch, making the competition fierce for job seekers at the upper levels.
In contrast, junior and mid-level candidates had more opinions than in previous years as hiringmanagers struggled to find high calibre talent to fill positions with a monthly base salary of up toHK $50K a month. Younger candidates, in particular, are increasingly discerning and morewilling to turn down roles they do not see as a "good fit". Subsequently, hiring managers arefacing more obstacles when it comes to finding entry and mid-level talent and we expect this toremain a trend into 2019.
In-demand Roles, Skills and qualifications for Finance and Accounting Professionals
Financial analysts, internal auditors and senior finance managers remained the most robusthiring positions in 2018. With many multinationals outsourcing jobs to offshore shared servicecentres, teams are becoming leaner and Hong Kong candidates no longer need to undertake amyriad of basic accounting transactions. As a result, there is an increased demand for financialanalysts as companies increasingly rely on finance functions to provide analytical support forthe business. The hiring of financial analysts and controllers remained high in 2018 and isexpected to stay steady in 2019.
Internal auditors remain essential to ensure companies adhere to listing requirements andcomply with regulatory standards. With an increased profile in corporate governance for manyfinancial service institutions, 2018 saw notable demand for auditors at the junior and mid-levels.While not as in demand as financial analysts and internal auditors, there remains some demandfor senior finance managers. With concerns regarding the outlook for 2019, we can expectturnover on a more active level than the previous year, the trade-off being a decrease in thehiring of financial controllers.
Aside from technical skills, hiring managers were increasingly looking for candidates withexperience in business partnerships and stakeholder management. With leaner corporatestructures and more organisations incorporating matrix-style management, the ability to handlecomplexity and adapt to rapidly changing environments is a key skill for candidates to possess.Remaining steady year on year is the desire for candidates to possess a CPA certification, andhiring managers continue to look favourably towards training in the Big Four accounting firms.
Trends Workplace Trends Impacting Accounting and Finance Professionals in HongKong
Many multinational corporations are moving their regional headquarters out of Hong Kong toalternative business and finance hubs like Shanghai and Singapore. At the same time, largecompanies are using shared service centres, usually based out of South East Asia and GreaterChina, to support BAU (business as usual) tasks and accounting transactions. Both of thesetrends will continue to impact hiring priorities.
With today's employees more likely to switch jobs, we have seen an increasing number ofcompanies offer a basic salary that vests in accordance to years of service in an effort to reduceemployee churn. Similarly, companies have become increasingly committed to building their employer brand to attract and retain talent as well as increase advocacy and engagementamongst existing employees.
Mirroring trends in other sectors, flexible working and work-life balance are becomingincreasingly valued by candidates and we are steadily seeing job seeker priorities shift awayfrom purely chasing career growth towards more rounded lifestyle considerations. In response,multinational corporations are striving to offer more flexible working arrangements with somealready implementing flexible hour policies.
In 2018 we saw general salary increases of 10-15 percent for candidates moving betweenorganisations and some notable salary jumps of 20-25 percent for junior candidates. In oneextreme case, we saw a senior candidate take a 30-40 percent decrease in salary. Withchanging headcounts and a larger pool of advanced candidates out-of-market due torestructuring, senior candidates may experience difficulty finding level pay in new roles.
What Does the Future Hold for Finance and Accounting Professionals? Predictions for2019 and Beyond
For 2019, we see expect recruitment in accounting and finance to remain steady. Seasonalhiring trends will remain steadfast, peaking in Q2 and Q3 with the usual slowdown in otherquarters as employees wait out bonuses.While technological innovations like artificial intelligence are yet to hit the discipline, the impactof disruptive innovation and emerging technologies cannot be understated. Just as roboticprocess automation has replaced basic accounting work undertaken by ground staff, it is nothard to imagine the displacement of transactional duties like basic bookkeeping in the nearFuture.
In 2019, organisations are likely to experience the same, if not increasing difficulty in sourcinghigh-calibre talent for junior and mid-level roles. For organisations looking to attract and retainthis young talent, it is important to keep these employees engaged, motivated and feelingvalued through strategies such as job rotation. Employee-employer relationships areincreasingly two-way, and organisations need to understand the shifting priorities of youngpeople from a sole desire to climb the corporate ladder towards healthier work-life balance, inaddition to recognising the value they place in finding an engaging work environment and a rolethat brings them satisfaction.
For candidates, aside from the technical skills needed to perform the functions of their role, thedevelopment of soft skills cannot be underrated. Job seekers should make an effort to improvetheir relationship management and communications skills to stand out from the competition.
All Figures shown are in HK$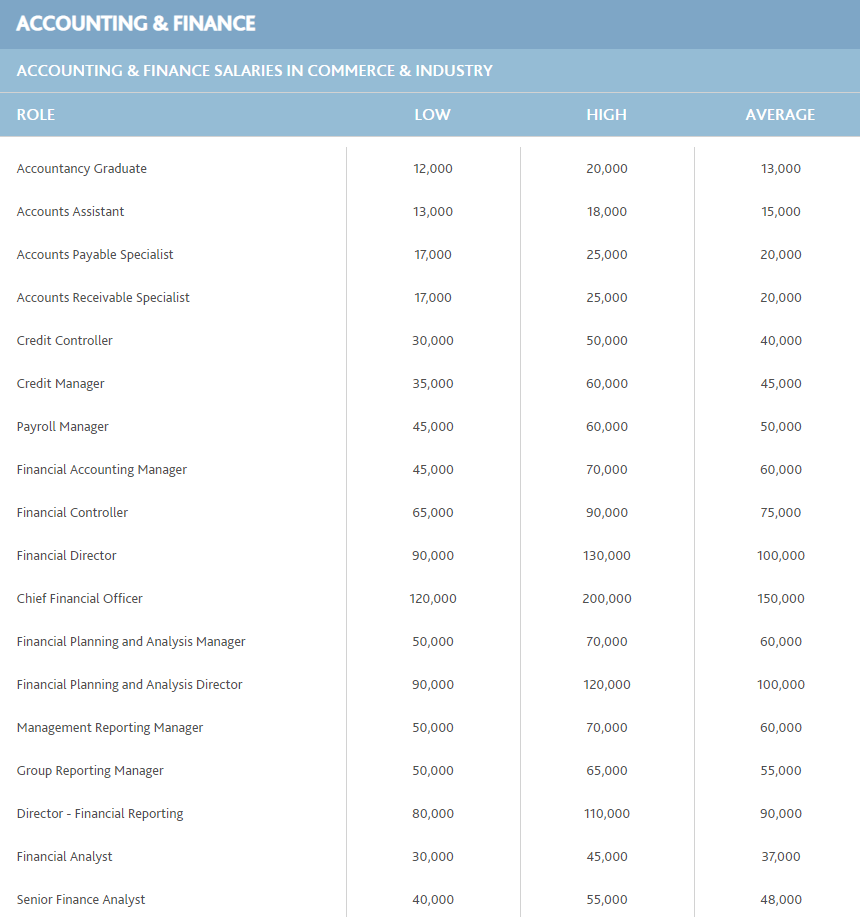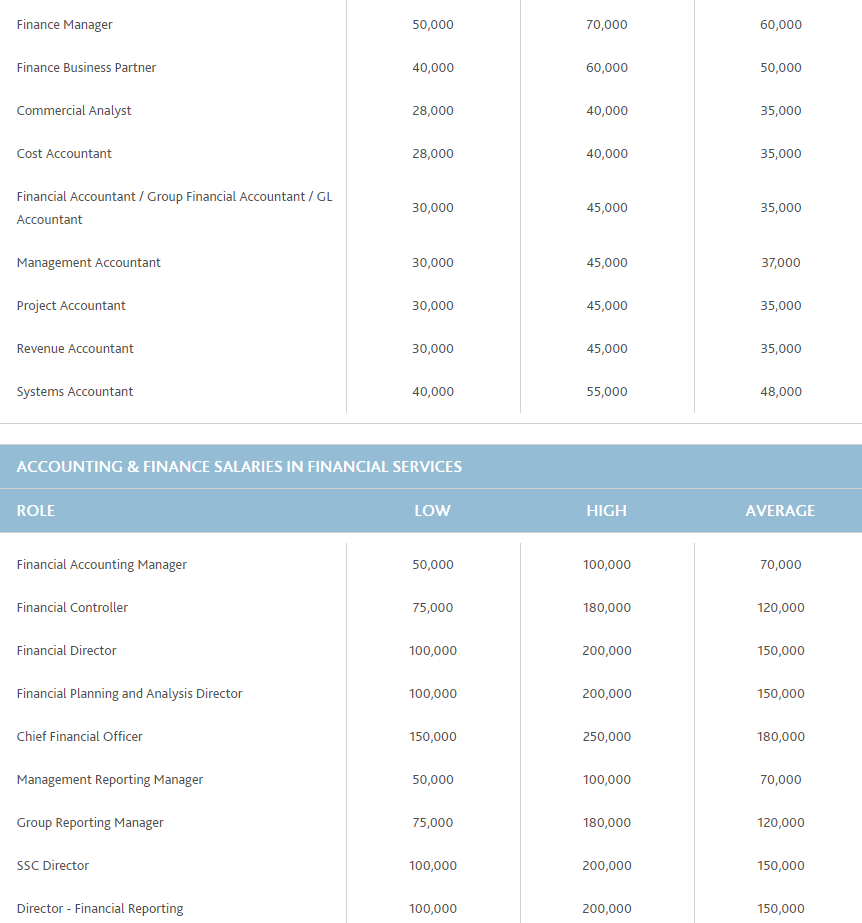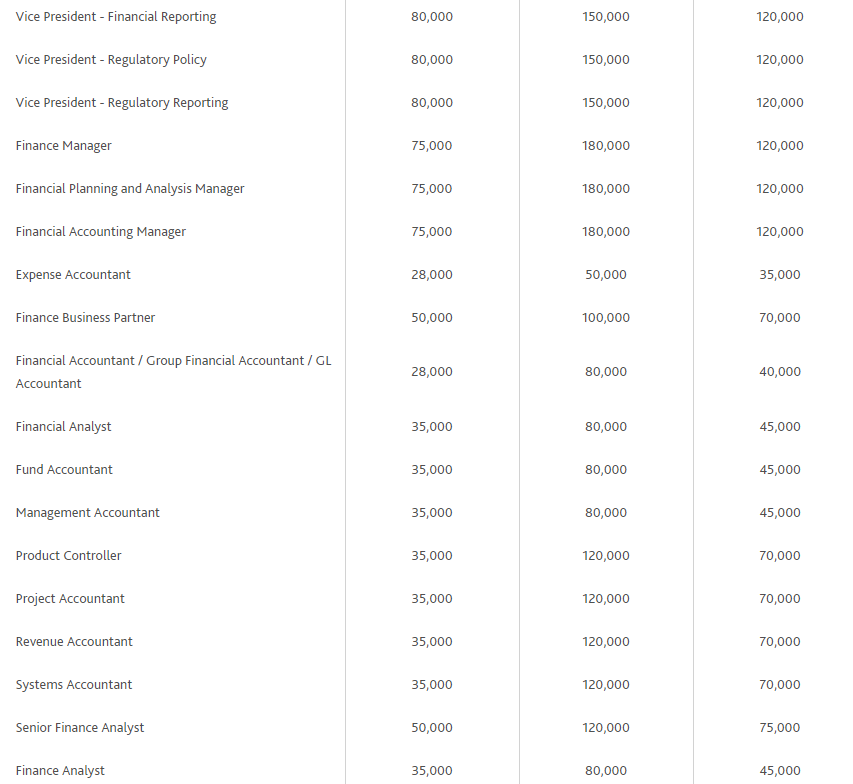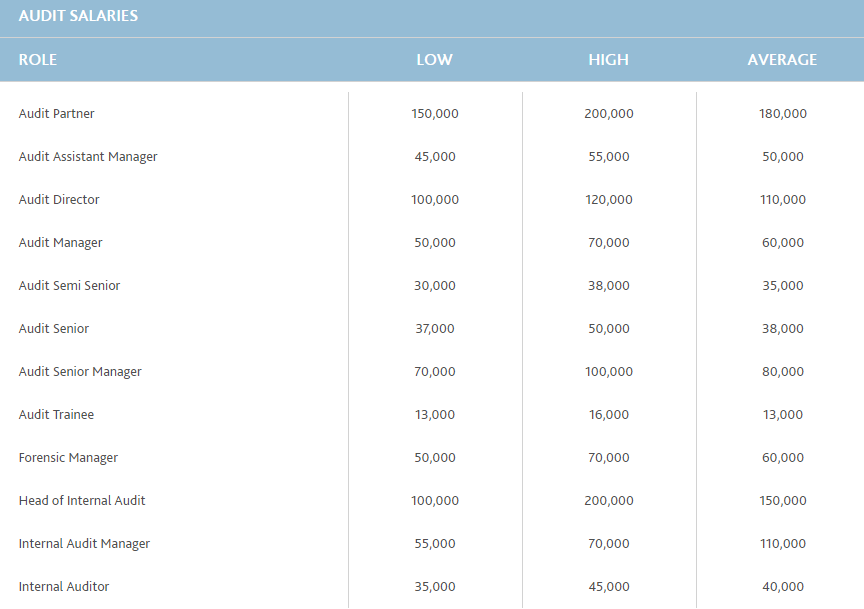 Source: Morgan McKinley Salary Guide 2019