The HR hiring market in 2017 was fairly slow, with replacement hiring accounting for the majority of vacancies, in particular in the financial services industry. There were only a few sectors actively looking to increase headcount, for example a number of multinational insurance providers have been hiring for specialised HR roles, such as employee relations, diversity and inclusion and leadership development.
Another trend we are seeing is for investment banks to make more senior positions, such as HR directors, available on a contract basis rather than replacing headcount, in response to business volatility. HR functions in financial institutions are also embracing diversity, actively hiring women returning from career breaks, such as maternity leave, on a contract basis.
Outside the financial services space, sourcing companies and start-ups with no established HR departments were also hiring HR professionals as their businesses grew. HR specialists in compensation and benefits, andlearning and development will continue to be key hires in 2018. As companies look to drive business, demand is expected to grow for HR business partners (HRBP) who can help develop effective talent management and act as partner to the business. However, hiring managers will struggle to find people with these skills in the market, as companies are investing in training and benefits to retain their specialists.
We foresee the HR hiring market will remain slow, with lengthy interview processes. Many companies are expected to recruit only to replace critical HR roles in 2018, choosing instead to invest more in strategies to retain their best talent. Although in general terms the HR candidate pool in Hong Kong is not limited, there is a shortage of candidates with in-demand skill sets such as compensation and benefits, and business partnering. To secure talent possessing in-demand skills, hiring managers are advised to implement efficient recruitment processes, and to remain flexible in their hiring criteria.
The average salary increment in 2017 was 10% for job movers and 2-3% for those staying in the same roles; this is likely to continue in 2018.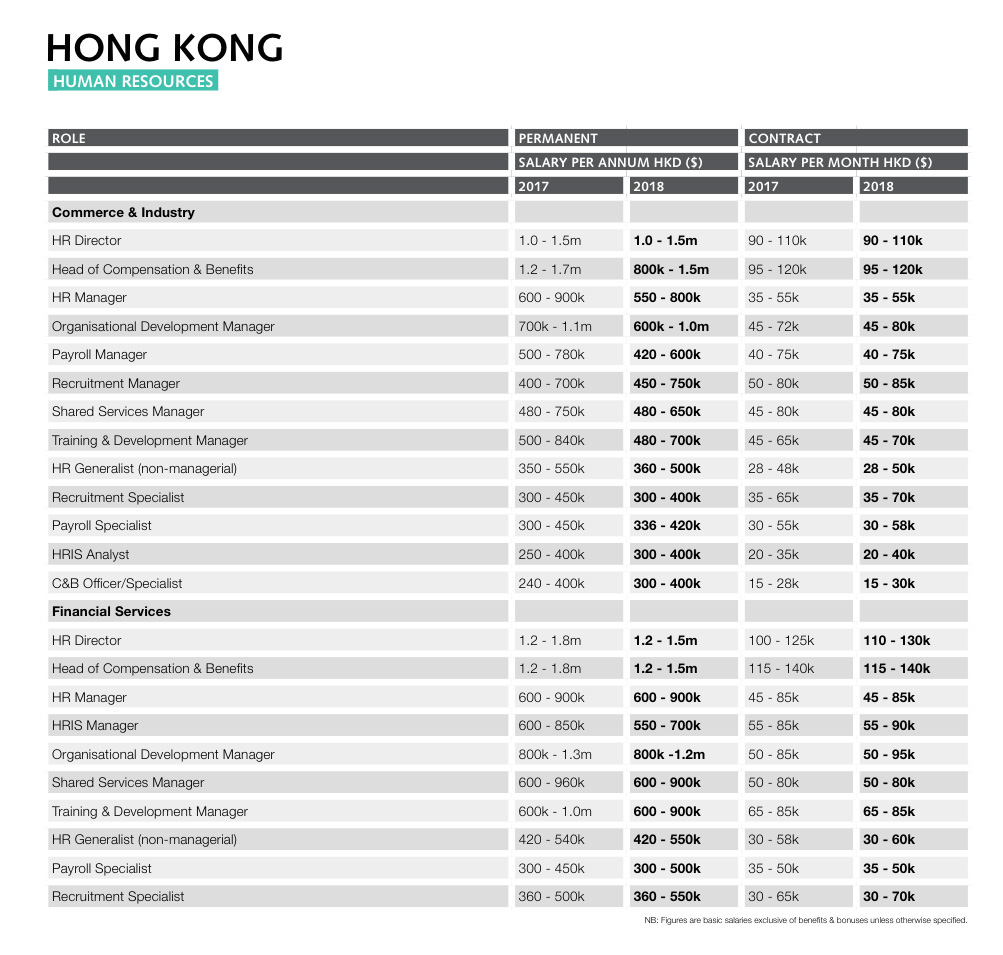 Source from: Robert Walters- salary survey 2018