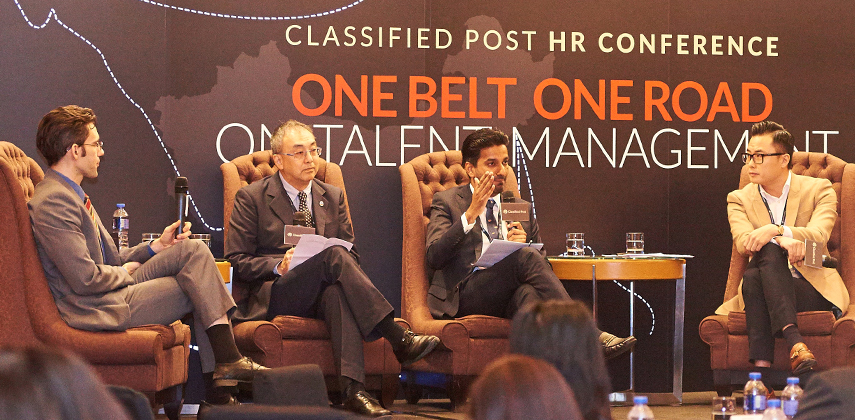 Kabir Julka (second from right), vice-president, market human resources Asia, American Express, speaks at a panel discussion at the HR Conference moderated by Ginn Fung (right), editor of Classified Post. Professor David DeGeest (left) and Alex Wong (second left), chief executive officer of the Maritime Silk Road Society, are the fellow panellists. (Photos: Howard Choi, Ivan Kwok, Eden Ng)
Organised by Classified Post, the One Belt, One Road Talent Management Conference, which took place at the Hyatt Regency Hotel on 15 June, featured a prominent line-up of leading human resources and employment experts who provided participants with valuable insights relating to staffing needs and talent management strategies.
Spearheaded by China, the One Belt, One Road initiative aims to boost global trade and investment by connecting Asia, Europe, the Middle East and Africa through multibillion-dollar projects in infrastructure logistics and transport. The more than 60 countries along the land-based "Silk Road Economic Belt" and the seagoing "21st Century Maritime Silk Road" account for about 60 per cent of the world's population and one-third of global GDP.
Outlining potential job prospects, keynote speaker Alex Wong, chief executive of the Maritime Silk Road Society, said the focus is initially on large-scale infrastructure projects. Citing a sustainable development research report, Wong said about 50 per cent of mainland companies with projects under way in Belt and Road countries are operating on a profitable basis, with about 15 per cent considered "very" profitable. The main sectors include electricity, gas, data services, construction, logistics, transportation and storage. "As far as Hong Kong is concerned, we are predominately strong in the areas of sales and international services, such as logistics, legal, accounting and auditing, which is where we should be looking to apply our competitive edge," said Wong during a panel discussion moderated by Ginn Fung, editor of Classified Post.
Fellow keynote speaker David DeGeest, assistant professor in the Department of Management and Marketing at Hong Kong Polytechnic University (PolyU), said the human resources aspect of the initiative is attracting a lot of attention from economists, psychologists and social scientists. DeGeest said that, from an organisational behaviour and human resources management perspective, it is unclear how established HR practices in North America and Europe are accepted across different cultures and countries. "This is one of the domains where more research is needed because understanding the underlying effects of what works and what doesn't work is critical to employee engagement," DeGeest said.
Doreen Lee, Hong Kong head of human resources with high-tech company Thales, gave details of how the company, which has more than 64,000 employees in 56 countries, makes a concerted effort to promote gender equality and embrace workplace diversity. "We believe a multi-cultural, diverse workplace drives innovation and success and strengthens employee engagement," said Lee, who revealed that 50 per cent of Thales department heads in Hong Kong are female and about 16 per cent of its staff are non-Chinese speaking.
As companies look to expand their footprint beyond their familiar borders, Kabir Julka, vice-president, market human resources Asia at American Express, said it is essential that they embrace and adapt to local cultures if they want to be successful. "What you cannot afford to do in an increasingly globalised world is see the world from a head-office standpoint," said Julka, explaining that a lot of multinational companies operate globally, but tend to see their businesses through a narrow lens. "This is one of the biggest mistakes companies make when they expand internationally," added Julka, who believes this will be a challenge companies looking at Belt and Road opportunities need to overcome.
With American Express numbering about 50,000 staff globally, with 35 per cent of them in Asia, Julka said the Asia region is critically important for its global business and talent-development strategies.
Julka outlined the importance of identifying talent with language abilities, a willingness to be mobile and the ability to understand the values and culture that underpin service brands. "Products will come and go, but service will always be the core of the business," said Julka, who also highlighted the importance of talent planning. "HR has an important role to play in identifying the next big idea, which can include looking at where competition might come from and executing strategies to enable employees to excel in a changing business environment," said Julka.
Elaine Chan, Zurich Insurance (Hong Kong) chief health officer, said Belt and Road-related employment would generate new opportunities and challenges for structuring compensation and benefits. She showed how flexible options such as lifestyle, specific medical coverage and beauty benefits can be added as top-ups to the framework of traditional benefit programmes. "Employees want choice and this one way to allow that to happen" said Chan.
Cecilia Kwok, business director for recruitment and education business, at the SCMP, provided examples of the various ways Classified Post's range of cost-effective screening and ability-assessment tools can help employers conduct better talent recruitment and management. "Our assessment tools have been customised for the needs of the Hong Kong market," said Kwok, who also highlighted Classified Post's range of one-stop training programmes, which include customer service training, career development, and coaching and mentoring skills for managers.
The next HR Conference will take place in November. Keep posted for more details.
---
This article appeared in the Classified Post print edition as Beyond borders.